SpanClamps Shaft Coupling - Secondary Lock
SpanClamps Shaft Coupling - Secondary Lock
Safety lock for axial and rotational force
Highlights
Safety lock
Multipurpose coupling Element
Easy to use by turning 90°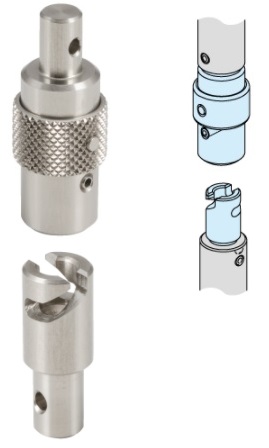 Spanclamp launch Shaft Coupling Clamp with Secondary Lock. It has a safety lock to resist rotation torque.
It can be a solution for connecting a gripping fixture for preform in a PET bottle making machine.
How to Use
The pin cannnot be pulled out when it reaches the end of the cam groove. The keys on the locking part stop the rotation.
1. Align the cam groove with the pin and insert.
2. Turn the shaft for 90° to clamp and it clicks when clamped.
3. Push up the collar for unclamping and turn the shaft by 90°.
Applications