SCSBLQT Knob Locking Quarter Turn with Stainless Steel wing head
SCSBLQT0610-S
---
This Spanclamps Part # SCSBLQT0610-S is a Knob Locking Quarter Turn with Stainless Steel wing head. This clamp has a stainless steel knob head and bears indications showing if the clamp is open or closed. The clamp is furnished with 3 socket head cap installation screws of M2x0,4 - 5 mm. The receptacle that is used with this clamp is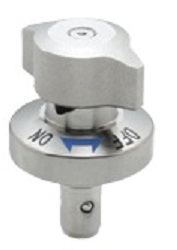 Technical information
Weight (g)
50
Heatresistant
200 °C
Shear strength*
3000 N
Tensile strength*
500 N
Clamping force
30 N
Material Info.
Body
SUS303
Shank
SUS420J2 stainless steel Quenched - tempered
Knob
SCS13
Ball
SUS440C - quenced and tempered
Spring
SUS304WPB
---
Measurments
Plate thickness
6-10 mm
D (- 0,10 / - 0,05)
6
D1 (h9)
14
D2
25
D3
25
DP
21
L
19,5
H
24,5
H1
6,5
M
M2x0,4 - 3 mm deep
SpanClamps Part No. is factory new.
SpanClamps Part No. has a certificate of Quality, and certificate of Conformity.

*Shear & Tensile Strength are static loads. Fastener will break when it receives this load. When the two plates receive a tensile load bigger than the fastener's clamping force, there will be a gap between the plates.
Maximum dynamic loads are currently set at 1/4th of the static loads, this needs to be life tested in the customer application.