SCQTHD Heavy Duty Quarter Turn plastic wing head
SCQTHD0620-P
---
This Spanclamps Part # SCQTHD0620-P is a Heavy Duty Quarter-Turn plastic wing head. The receptacle used with this clamp is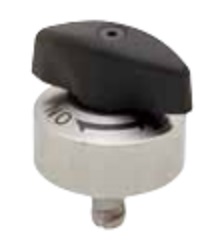 Technical information
Weight (g)
121
Heatresistant
130 °C
Shear strength*
4800 N
Tensile strength*
1600 N
Clamping force
400 N
Material Info.
Body
SUS303 Stainless Steel
Shank
SKS3 - electroless nickel plated / quenced and tempered
Knob
Polyamide black
Spring A
Equivalent SWOSC-V
Spring B
316J1 Stainless Steel
---
Measurments
Plate thickness
3-20 mm
SpanClamps Part No. is factory new.
SpanClamps Part No. has a certificate of Quality, and certificate of Conformity.

*Shear & Tensile Strength are static loads. Fastener will break when it receives this load. When the two plates receive a tensile load bigger than the fastener's clamping force, there will be a gap between the plates.
Maximum dynamic loads are currently set at 1/4th of the static loads, this needs to be life tested in the customer application.